A NEW CULINARY DIALECT
A new concept from award-winning Chef Michael Mina, Mother Tongue celebrates global fare with vibrant and clean ingredients that nourish the body and mind.
Utilizing meticulous sourcing and innovative culinary technique, the menu is soulful and flavorful prioritizing organic and whole foods as well as sustainability.
Designed by Martin Brudnizki, Mother Tongue is the place for a night out for dinner with friends, a happy hour cocktail or weekend brunch.
Mother Tongue is open to the public for dinner and weekend brunch with indoor and outdoor dining and cocktails.
EXECUTIVE CHEF FERNANDO DARIN
BALANCING SOUL FOOD AND HEALTH CONSCIOUSNESS
A curated dining experience that reimagines comfort food from around the world using modern technique, innovation and wellness practices with an emphasis on ingredients that have nutritional benefits while never sacrificing flavor.
Lunch | 11am – 3pm Monday – Friday
Dinner | 6pm – 9pm Sunday, Wednesday, Thursday
Dinner | 6pm – 10pm Friday & Saturday
Brunch | 11am – 3pm Saturday & Sunday
Social Hour | 4pm – 6pm Monday – Sunday
Info@HelloMotherTongue.com
960 N. La Brea Ave, 4th Floor
Los Angeles, CA 90038
Open to the Public | Valet Parking Available
Mother Tongue is located at HEIMAT, the world's first concept fitness club. Our entrance and valet are accessible via the alley off Romaine St.
meet the chefs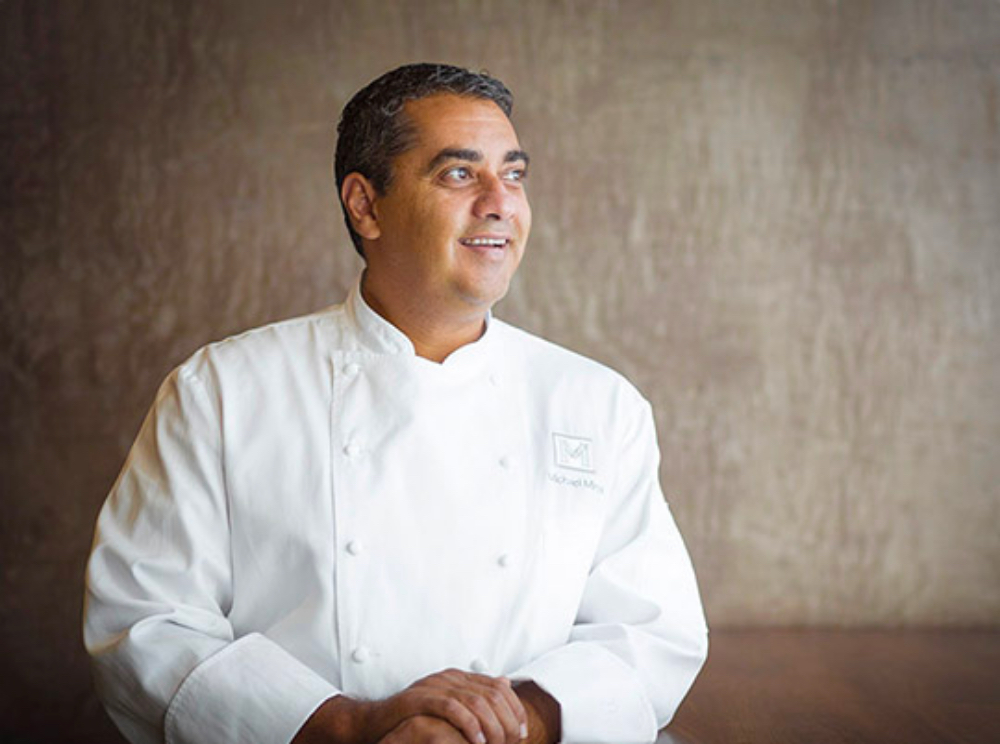 CHEF MICHAEL MINA
Born in Cairo, Egypt, and raised in Ellensburg, Washington, Chef Michael Mina has enjoyed a love affair with the kitchen, creating memorable dining experiences for guests from a very early age.
At the start of his career, Chef Mina was presented with the opportunity of a lifetime to work alongside Chef George Morrone to create and open AQUA, an upscale seafood restaurant in San Francisco which opened in 1991 to rave reviews and national acclaim. During his time as AQUA's executive chef from 1993 to 2002,  Chef Mina was awarded Rising Star Chef of the Year in 1997 and Best Chef: California in 2002 by the James Beard Foundation.
Chef Mina founded his company, MINA Group, over twenty years ago with partner Andre Agassi and restaurateur Patric Yumul. Since then, MINA Group has opened more than 45 restaurants around the world.
Chef Mina has been honored with numerous top awards and accolades including a Michelin Star at MICHAEL MINA from 2012 to 2018, James Beard Foundation "Who's Who of Food & Beverage" inductee in 2013, Gayot Restaurateur of the Year in 2011, Bon Appétit Chef of the Year in 2005, and many more. He has been a featured guest chef at the famed James Beard House numerous times and has cooked for three U.S. presidents: Bill Clinton, George W. Bush, and Barack Obama.
chef fernando darin
Chef Mina has tapped Patina Group alum Fernando Darin to assume the role of Executive Chef of Mother Tongue Los Angeles.
Born to an Italian family in the countryside of Brazil, Darin moved to Los Angeles more than 15 years ago where the majority of his cooking career has taken place. 
As an advocate for the environment, Darin's culinary philosophy has a strong emphasis on local, organic and ethically sourced ingredients with a health-driven focus. His cooking style showcases modern California cuisine with influences from around the globe.